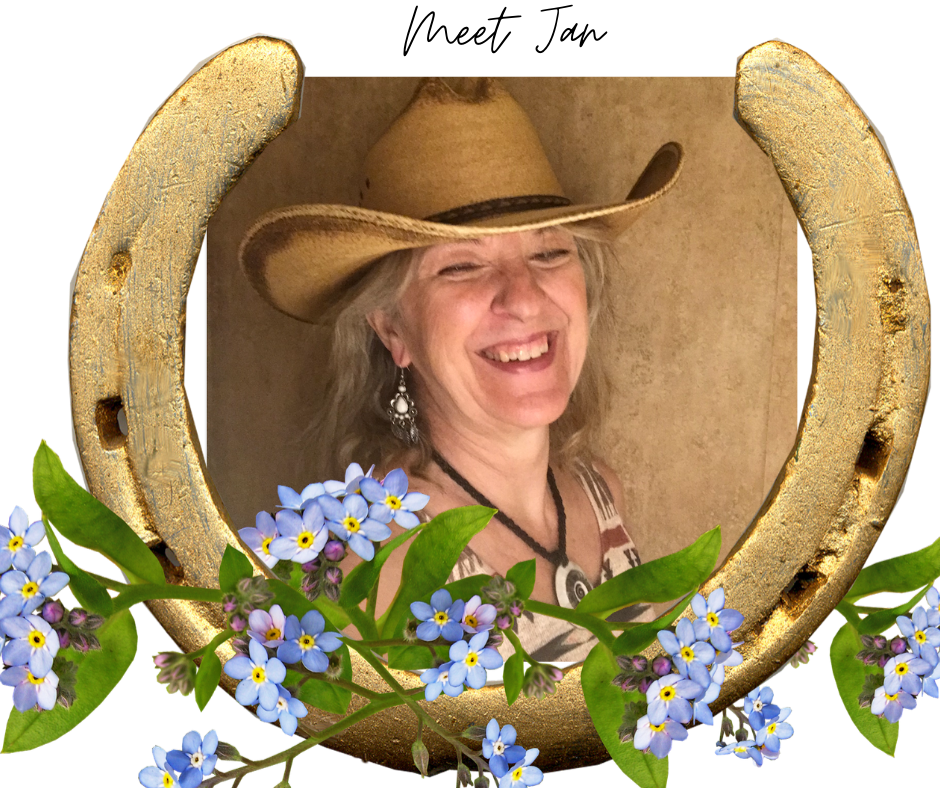 For years, I struggled with chronic pain, wasting time & money searching for solutions.
I'd get my horse ready for a show only to end up sitting beneath a tree crying in pain.
Some days at the office I'd have to go and lie down on the floor in the file room to relieve the pressure on my neck. I'd be in tears and exhausted from the constant pain.
True grit, perseverance and faith were my constant motivators. I was determined to live a pain free life without pills and nasty side-effects. My saddle sat in the corner of my living-room waiting. My horse was happy that I learned to drive cart, but we both missed our quiet rides in the country. It just wasn't the same.
Hi! I'm Jan. Today my life is full of family and friends; horse, dogs, and cats; art, yoga, gardening, music; and whatever needs to be explored!
Many moons ago, my first dream job was as a vet tech in training. My goal was to become a veterinarian. Life happened and another path opened that guided me to become a career counsellor/project manager/business coach helping others find work or create their own home-based business. After a 35-year career in this field I retired. (ya, right…)
I'm a very spiritual and holistically driven individual who became a Certified Yoga Instructor (CYT500) and Reiki Master Teacher post retirement from the corporate world. Morphing like a butterfly I've become a wellness advocate – "'Cause without your health you have nothing!" and "You are what you eat!"😀 That applies to pets and the people who love 'em!
I've been through just about everything life has to throw at you and love sharing what I've learned with others so they can live a savvy lifestyle in the chaos of family and pets! Having raised two active teenage boys, Irish Setters and Golden Retrievers I know "Cute doesn't cut it all the time!"🤣
What's savvy? Living a simple, rewarding life that INSPIRES us to get up every day! And believe me, as we age, we need lots of inspiration! 😆🐎
I look forward to sharing the journey with you and would LOVE to hear how you are doing and answer any questions you may have. You can connect with me on social media at any time.
Ask me how I got me back in the saddle again after the doc said I'd never ride again.
Easy 1-2-3! Dimity-boomity-boom! 💃🏼