Apr 8, 2019 02:08 PM Central
Jan Sattler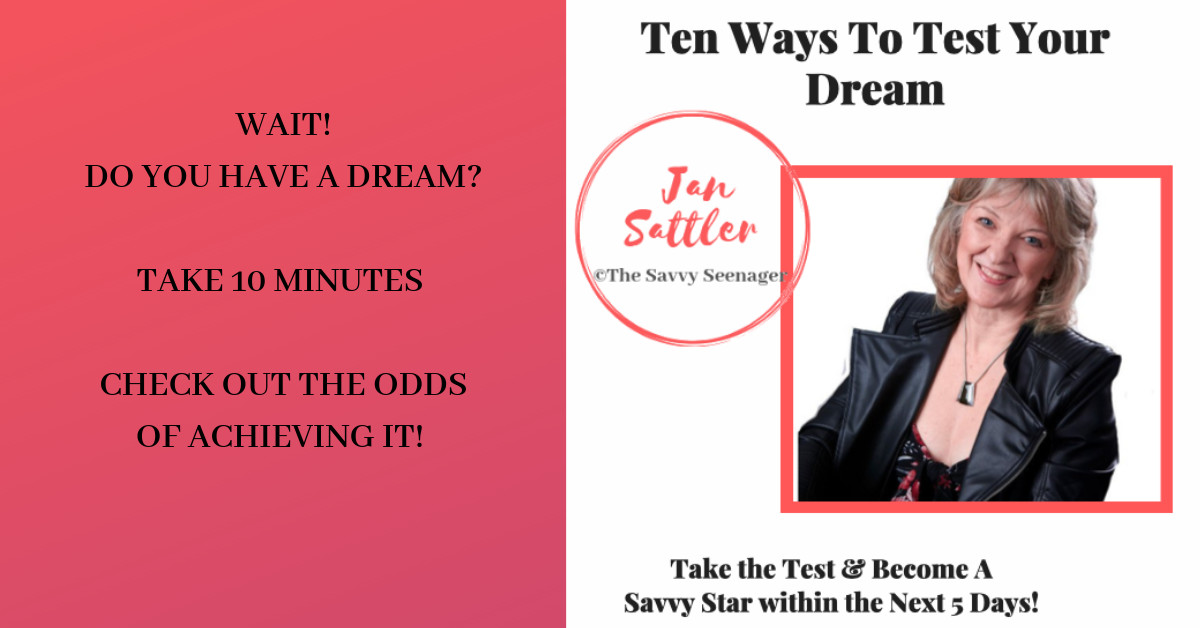 Hi Jan Sattler, the Savvy Seenager here!
I'm so excited to share the launch of my free training blog series with you today.
The tips, strategies and training I will be giving you won't be your average stuff you get in your office or anywhere else!
I have over 35 years of business consulting, career counseling, life coaching, and life stories in my noodle I simply have to get out and share with you all to help you empower yourself to live a life of no regrets and create a lifestyle of your dreams.
So how do you know if your dream is real?
Maybe it's just a daydream that distracts you from your daily work.

It could be the Pie in the Sky dream like building a rocket ship to the moon.

We all have "Worry Wart" dreams that wake us up at night generated by fear and worry.

And some of us have those fleeting dreams of the way the world would be if we were in charge of the world.

Have you ever seen folks who live their lives through others? Good Old Dad means well but....

Then there is the dream that Prince Charming will make everything ok! (...and you risk he turns into a frog! :))

Did you ever have your eye on a career job and worked hard at it, got there then didn't like it once you landed?

Have you experienced the dream of getting that gold medal, or a CEO position, or title of doctor, lawyer or engineer – because you absolutely know when you get it you'll be happy?

And we all know about the dream of keeping up with the Joneses! Buy the car; redecorate the house twice a year; buy the most popular gadget or widget. You'll 'fit in'! You'll be happy! Well maybe for a little while until the 'buzz' wears off.
Most of us who have dreams like these aren't happy when we arrive at our destination.
Why? Well, this is what I define a dream as:
"A dream is a capitulating vision of the future that tingles your body from the tips of your toes to the top of your head, empowering you to do everything you can to achieve it"
So how do we increase our odds of making our dream come true?
We become very honest with ourselves and in the process we save time, money and energy; likely avert a costly divorce, and make great memories with friends and family along the way.
If you like this FREEBIE, be sure to join me in my new Savvy Star Club where as a Savvy Star you will have access to all my future training and business-lifestyle strategies to help you ignite your inner hero! Just click JOIN and we'll get you in.
Meanwhile, CLICK BELOW IN THE COMMENTS to say HELLO. With this new series I would really love to know if you like it and get feedback so I can improve the content I give to you. Send me some requests too - I'll work the topics into the series. How many other trainers out there actually ASK you what you would like to see? Rather than search forever, you can find it right here ;)