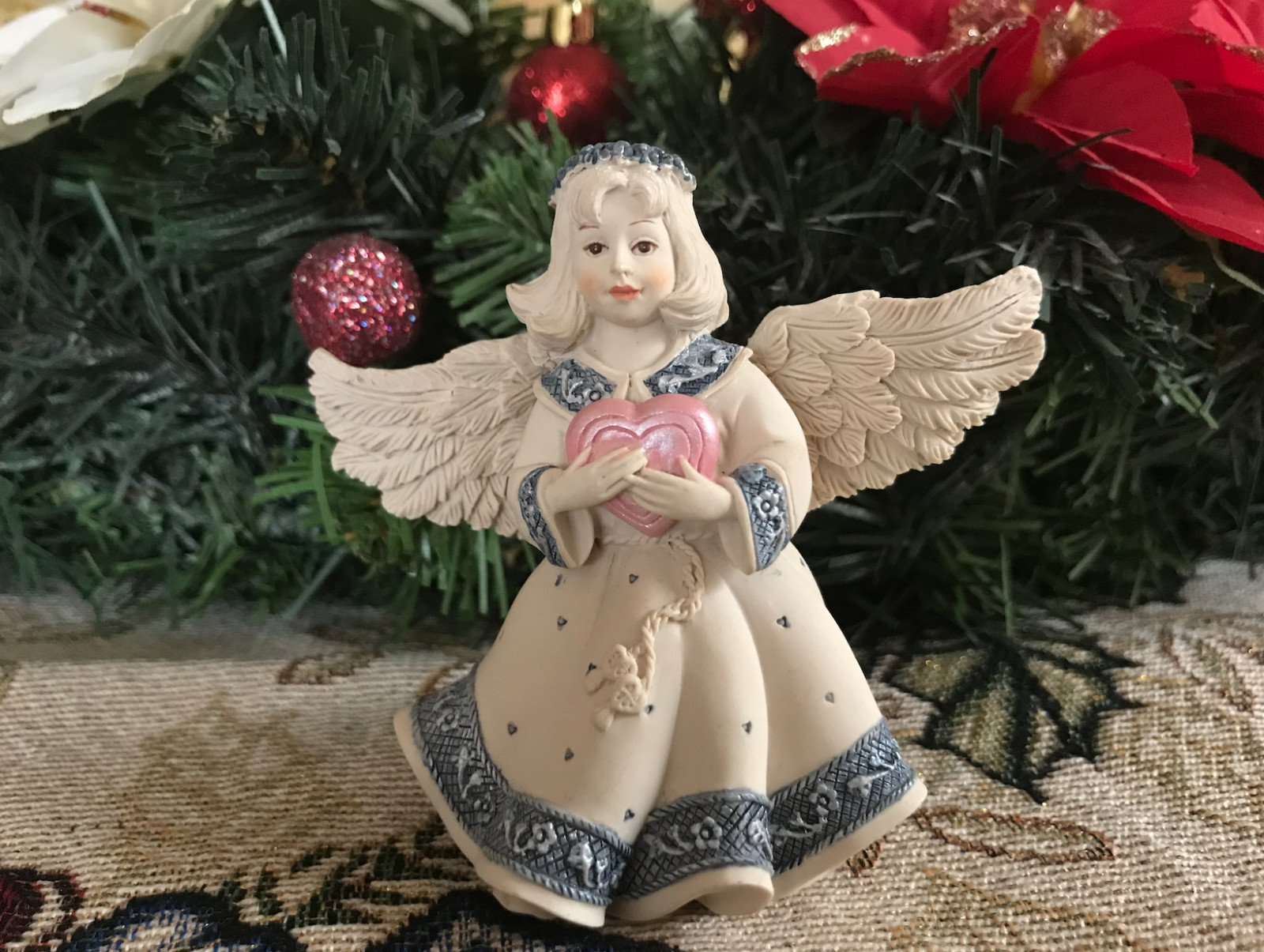 I remember the first holiday after my Mom passed. It was Easter. I wasn't ready to come out and talk to people, much preferring the cloak of reclusiveness I had wrapped myself in. It was easier to deal with life. I slept a lot. When I returned to work I managed to get through each day one small step at a time. I didn't have any of my essential oils back then to help me through the grief process like I do now. Perhaps the process would have been more enduring if I had. I just know I lost my Mom. I lost my compass. I was lost and somehow I had to find my way again.
Then came Thanksgiving. It was ok. Family was around but Mom wasn't there. I placed a ceramic angel on the table to symbolize her presence. I didn't want anyone to forget what an amazing woman she was. "Happy Thanksgiving" greetings were heard but deep down there was a feeling of loss that still hovered. "I will get through this," I said to myself. I led my family in prayer as we all held hands remembering Grandma, Grandpa and others who have gone before us, giving thanks to the blessings we had received. I was a Mom. I had to lead my kids and grandchildren through this grief period too. That's what a Mom does. We lead by example.
Weeks passed and Christmas was upon us. Christmas was always very special for Mom and me. I sang in the church choir for years and Christmas Eve Communion was always a very revered time. Surrounded by family and friends we'd celebrate the birth of Christ. The congregation would sing the favorite carols always ending with Silent Night as the church was dimmed and everyone held onto their communion candle.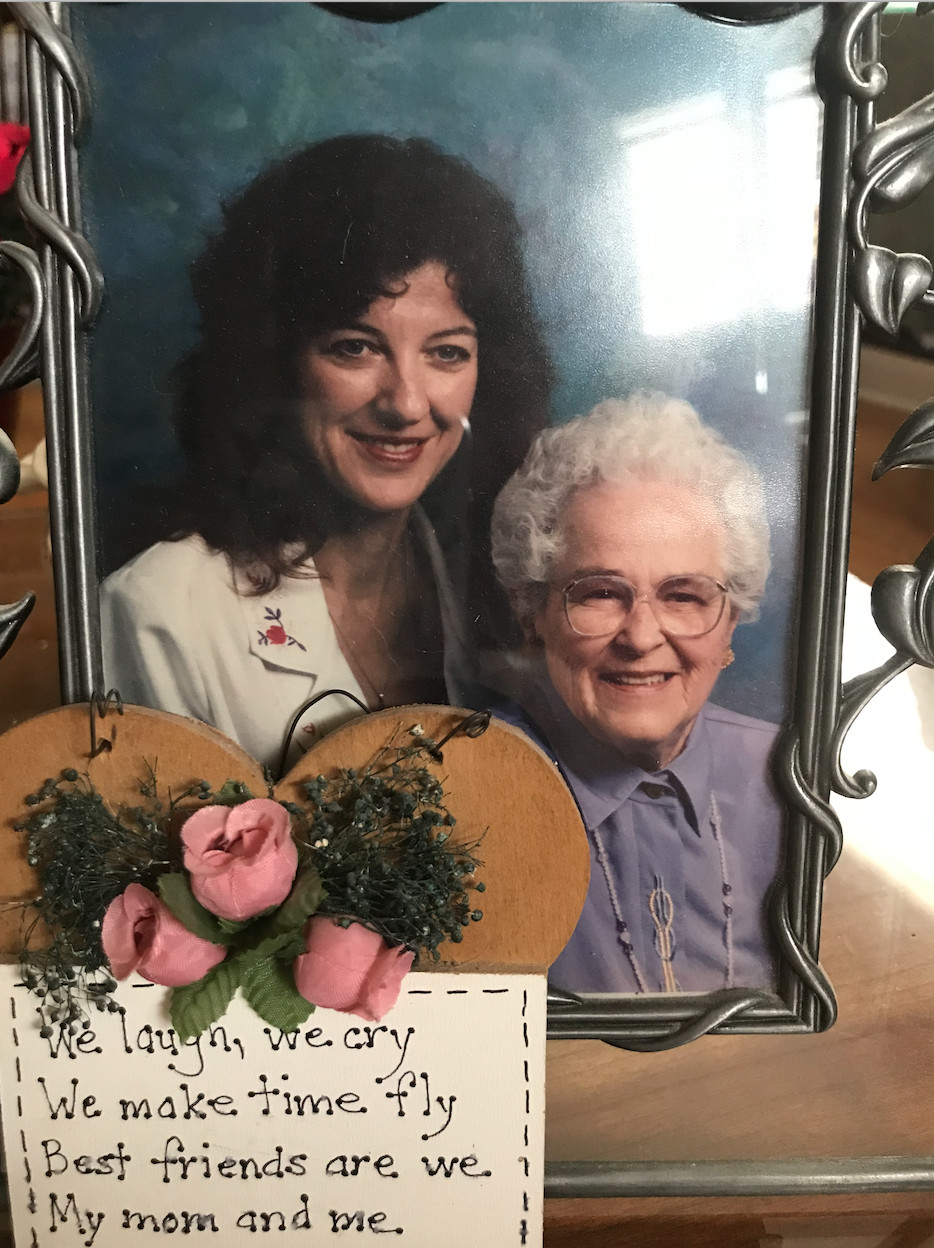 THE FIRST CHRISTMAS
"I want to go to church Christmas Eve " I said to my husband Dan. Then days later, "I don't want to go." Then again, "No, I want to go." "Whatever you like honey, I'll be there." he said. Off we went. We sat down in the pew, nodding hellos to friends and lost ourselves in the moment listening to the organ music, the choir and the minister. Singing the Christmas Carols, I focused on my favorite stained glass window with Jesus looking down upon the children. "Suffer not the little children who come unto me." His love gave me strength.
Then it came. Silent Night. My communion candle was lit and I held it tight. My husband held my hand to keep it from shaking. My heart was breaking. Tears rolled uncontrollably down my cheeks. The emptiness in my heart felt like it was breaking once again. I must have gone through a box of Kleenex. The more I cried, the tighter my husband would hold me. My tears did not reflect a lack of faith in God, nor did they reflect a sign of weakness or being 'stuck' in grief. My tears were a sign of love for my Mom, my rock, my best friend, by guiding light. She was worth every tear I cried (and still cry to this day). After the service, we snuck out the back door and into the car where I really let go. We both cried. Seeing my husband cry assured me of his love for me and that I was not alone in missing my Mom.
There are no words that can be said. Thankfully my husband understood. He was simply there, held me, let the tears come and helped wash them away.
You see I knew I had to get through this. I knew the tears would come. I just had to survive it. I had to go through the wave, ride it and get out onto the other shore of peace.
SOCIAL GATHERINGS
Over the holidays those Christmas gatherings were difficult. The first Christmas with my family was hard without Mom. Yet we all got through it. We talked about memories, oh, there were tears but we held on together. We were not alone.
We all missed Mom ... Grandma.
There were other social gatherings I was invited to – some I declined – but most I accepted. My Mom showed me the path of 'grace'. To be there when others needed you and to acknowledge when you need your family or friends by reaching out to them. "It's the little things that matter" Mom would always say. Showing sensitivity around the situation of someone's loss is a sign of respect and emotional intelligence. My husband would always say, "Honey lets go out for a walk, or how about lunch at this nice little bistro". We would go out just to get back into a 'new normal'. Friends would call and invite me out for coffee or lunch. Dear close friends would know that exact moment a silent hug was required.
THE HOPE OF CHRISTMAS GETS US THROUGH
'Yonder breaks a new and glorious morn" is our hope for all who have lost a loved one. Perhaps this is their first Christmas traversing through the emotional loss of grief. The Circle of Life assures us time will heal. Give yourself permission to let the tears flow. He has made a promise to us that has never failed, "He will wipe away every tear from their eyes, and death shall be no more, neither shall there be mourning, nor crying, nor pain anymore" (Revelation 21:4)
HOW CAN YOU HELP SOMEONE GRIEVING AT CHRISTMAS?
-Call or visit. Escort them to a function they would like to go.
-Let them lead. Ask what they need or want. NEVER assume. If they say, "No" that's ok. It is not a reflection on you, it's about them and supporting them through the grief process.
-Close friend? You'll know when they need that silent hug.
-Spouse: Don't try to 'fix anything'. Simply be there.
-Don't be afraid to shed tears. It's a sign you loved the one who passed on.
-When they start reminiscing and telling stories of their loved one – join in; share the laughter and tears.
See you at Communion Mom … Love You.
If you found value in this story and know someone who is grieving the loss of a loved one, please SHARE & COMMENT below. Let them know they are not alone. They too shall get through this.
Until Next Time,
Jan Sattler
©The Savvy Teenager, Daughter, Mom, Grandma, Wife and Friend
Like this article?
SUBSCRIBE
for more Savvy News you won't want to miss!
Increased joy and self-esteem is waiting for you inside the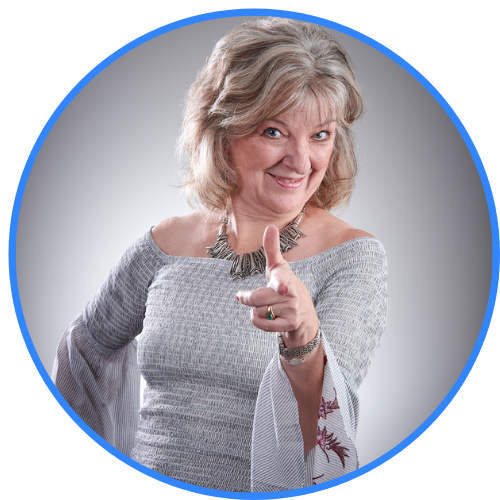 A newly launched community of value for like-minded women who
are seeking to find their authentic self and live life to the fullest.
The Club is located Inside my private members lounge on this website.
Inside the Savvy Spirited Women's Club you will find proven strategies and resources that will help you
move FROM the paralysis of fear or indecision TO confidence and clarity;
FROM chronic pain managing you TO you managing it!
And so much more🌿
Isn't it time YOU designed YOUR savvy life for YOU?